Scenic and Lighting Design for
Jesus Christ Superstar
directed by Tom Polum
produced by Maryland Arts Festival, Baltimore, MD.
Baltimore Entertainment Weekly Best Scenic Design in Regional or Touring Theatre, 1995
Baltimore Entertainment Weekly Best Lighting Design in Regional or Touring Theatre, 1995
---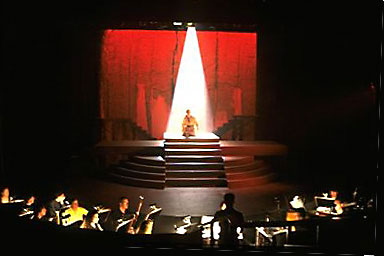 Overture
the scenic and lighting designs were built around the concept that events portrayed were NOT under the control of anybody involved. Life, people, and events moved on under some other control...
The set was a series of steps and platforms on a turntable. The background was erosion cloth -for texture- in front of a cyc. Two stationary platforms and steps provided `observation` areas used throughout. Downstage on either side were scaffolding towers that supported lighting, followspots, and were used by the actors as well.
The first person on stage- Judas- is here captured in the `God` light on the top of the platforms. This was used throughout the show to `finger` those events and people under that `other` control.
---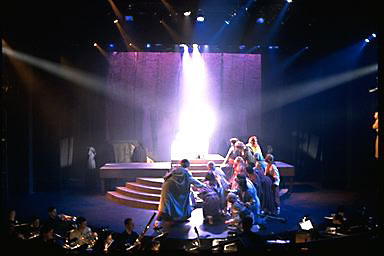 The first appearance of Jesus- completely engulfed in the `God light`- and three followspots.
---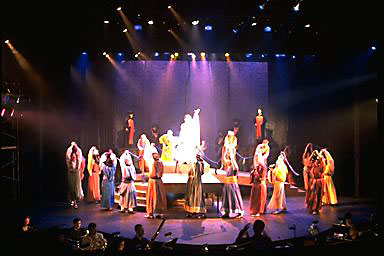 Hosanna
Here the center platform has revolved, allowing new compositions.
---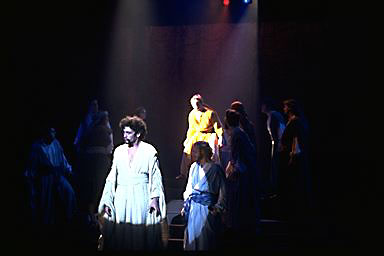 The Last Supper- Confrontation with Judas.
Notice Judas is at the top of the platforms- in the `God light` position. The use of followspots from the sides in addition to the front allows Jesus to be well lit while Judas intentionally has stark shadows.
---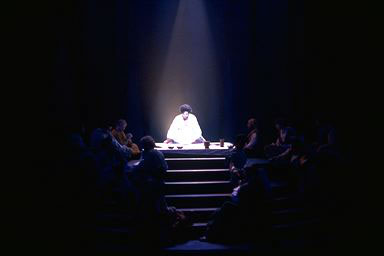 Take this cup away...
was the pinnacle of control beyond human understanding- and found the `God Light` as the primary light source to reflect that idea.
---
The arrest/Peter-I don`t Know him!
Often the action was frozen around or behind the action onstage, with the followspots picking out those commenting or still involved in the action.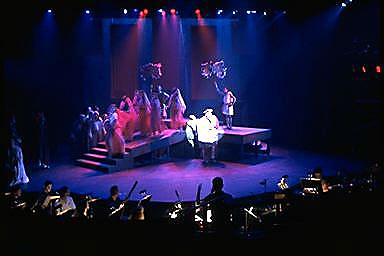 Herod
Again, a new orientation to the platform allows new compositions, while banners further block the cyc. The banners were left plain so they could evoke more than just the Romans...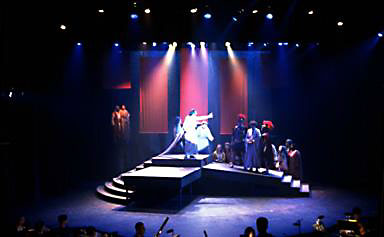 Pilate
Pilate also spent most of his time on the upper level in the `God light`, for as Jesus says ...any power you have comes from far above...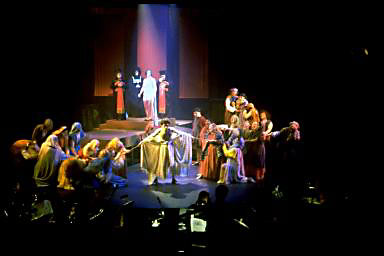 The Whipping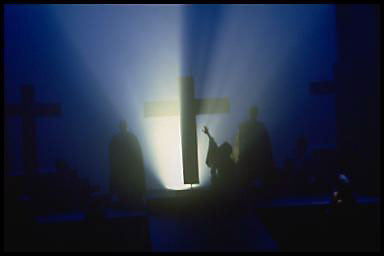 Crucifixion
As the platform turns directly to the front for the first time, we can see that it actually is a crucifix shape. Jesus is attached to the cross and crucified completely bathed in the `God Light`, but as `... it is finished...` he vanishes in a flood of white flowing to the heavens, and the empty cross, now engulfed in light from below, begins to float to the heavens. All of the grunge in front of the cyc rips and falls, leaving a beautiful clear background as the final image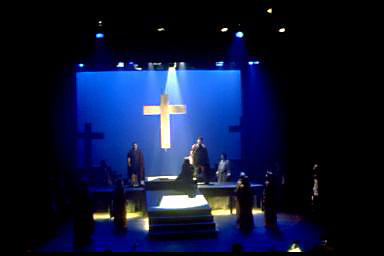 after\math
---
The first version of JCSS I did also won awards. Check it out here.
return to TOP