Lighting Design for
The Who`s Tommy
directed by Tom Polum
Scenic Design by William Pierson, Costumes by Georgia Baker
produced by Maryland Arts Festival, Baltimore, MD.
---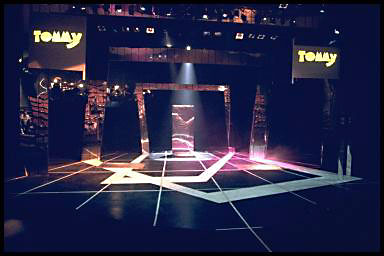 A lighting designer`s nightmare? Onstage orchestra... Projections... and an entire set of mirrors...

but they all worked to support the action of the show.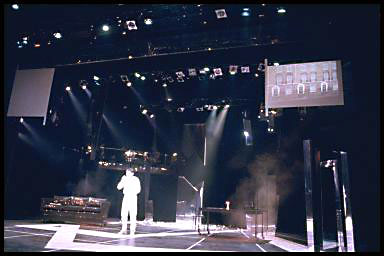 Into the simple surround are placed very minimal props to set location. Slides projected on screens surrounding the stage also helped support the action. The upstage center mirror is the focus for Tommy`s early manifestation. The mirror is broken as Tommy is ~free~ to search for his real self. Both the scenic elements and the unmasked electrics worked to keep the mirror -broken or unbroken- as a visual focal point.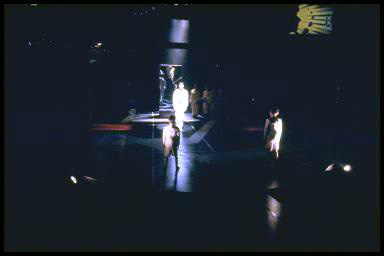 Tommy`s character is represented throughout the play by three actors. Young Tommy- the innocent; middle Tommy- deaf, dumb, and blind; and `narrator` Tommy, who is actually telling the story. All three related to each other throughout the entire production, with the two not `in` the scene being carefully lit so one side of their body was always in dark-they were not complete.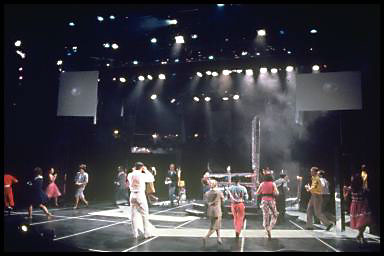 To keep the rock-n-roll flavor so critical to this music, the lighting was designed to look like a series of trusses as one might see at a concert. They were left in plain view and carefully positioned so that the mirrored arches effectively doubled the visual look. Haze in the air turned the beams of light into important visual elements.
---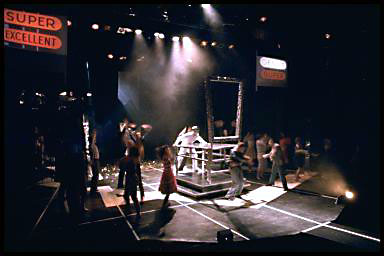 We chose, however, to work mainly in a `no colour` palate with the lighting to get the stark, intense brilliance and focus necessitated by the music. Careful control of angle and position allowed us to create a range of looks from the drama of shadows and backlight...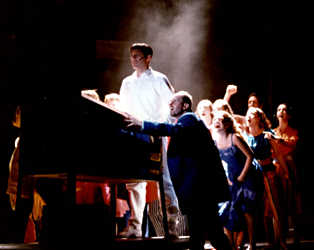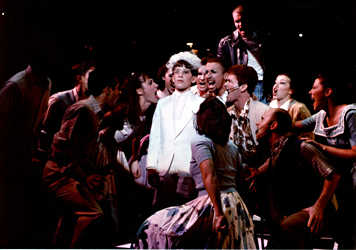 ---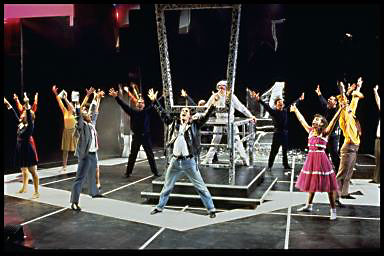 to full stage brightness- still keeping very nice modeling and dimensionality.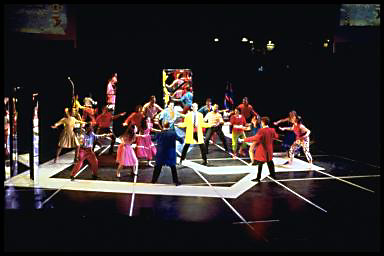 Colour, when desired, is mainly introduced through the costumes, requiring a careful collaboration to support them.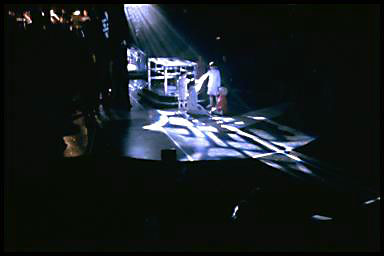 Using a pattern reflected off of the broken mirror, the lighting mirrors the final image as the three Tommy's are made whole into one.

Return to the TOP