Lighting Design for
Jesus Christ Superstar
directed by Jack Welch
produced by Richmond Department of Recreation and Parks at Dogwood Dell Ampitheatre, Richmond, VA.
Scenic Design by Mitch Fore, Costumes By Mary Boelt Richmond News Leader Phoebe Award for Best Lighting Design for a Musical,1981-82 Season.
Dogwood Dell Amphitheatre is an outdoor summer theatre.
In Superstar, the use of multiple playing spaces, including the roof of the Dell facade, made for an interesting challenge. To give this show the look of spectacle that it needed, lights were hung in plain view and in odd places.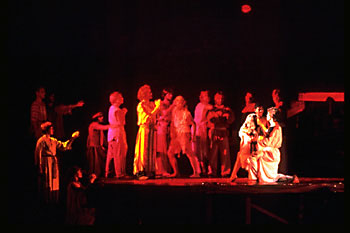 I was able to put to use several techniques that I learned in the rock-n-roll business where I got some of my early lighting practice. The use of heavily saturated colours from the sides and back, cutting through with follow spots for emphasis helped give this show the passionate intensity it needed.

---
The Review; See what The Richmond News-Leader had to say...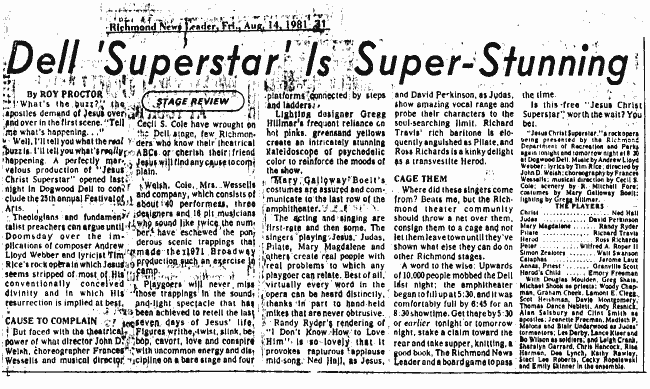 ---
Or just the part about me: