Design Excellence Award, USITT-Texas
Austin Circle of Theatre'`s Award for Best Scenic Design in 1986
I`ve done two versions of Shaw`s Heartbreak House. Luckily for me it is one of my favorite scripts. My first `HH` was my thesis production at University of Texas at Austin, directed by Bart Simpson, lighting by Alan King, costumes by Kathleen Waln. The second was ten years later at Towson State University, directed by Dick Gillespie, lighting by Heather Sorenson, costumes by Georgia Baker.
---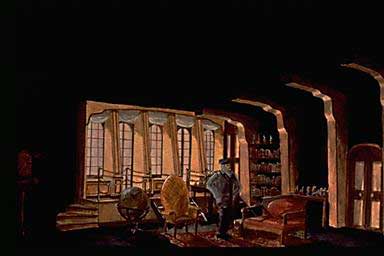 The Scenic Design for G.B. Shaw's Heartbreak House was my thesis production at the University of Texas at Austin. This rendering of Act I and the rendering of Act III have been in several design exhibits, including "Design Texas" sponsored by the Texas Section of USITT where it was awarded the Design Excellence Award by judges Bill and Jean Eckart. The design also won the Austin Circle of Theatre`s Award for Best Scenic Design in 1986.

---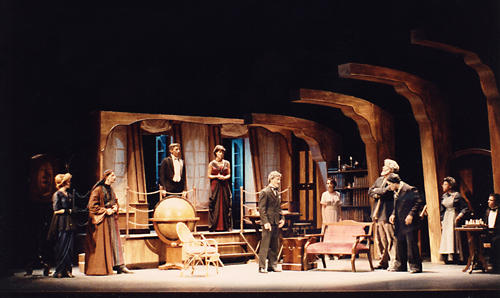 Although trying to hide from and deny the existence of the war in the real world, the characters in this play are finally forced to face that world. The tension of the overhanging beams, the extreme axis of the space, and the lack of any real walls to protect them finally force the characters outside for the final confrontation in Act III.
---
Heartbreak House, Towson State University
A completely different approach from the previous version, the concept for this production of G.B. Shaw`s comment on England`s inability to prevent the horrors of WWI was based around the leisured, cultured class`s hiding from the war on a tropical island.
---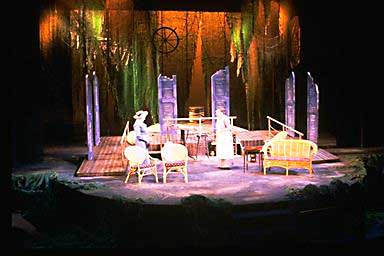 Paintings of Rousseau and others gave us the flavor of foliage surrounding and encroaching on the interior space throughout the production. There is, however, nothing to keep the ever-growing foliage from working its way into the space, just as the war ultimately makes its presence felt regardless of the fact that these people have tried to run away from it. The use of lighting to minimize the foliage at the beginning of the show, and to highlight it more and more throughout the play necessitated careful collaboration with the lighting designer.
---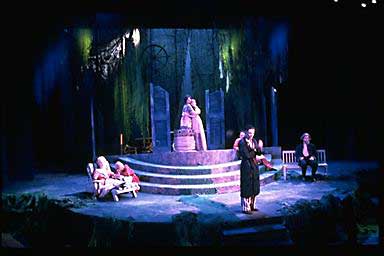 In the third act of Shaw`s Heartbreak House, the "England is a ship" metaphor that is so strong in this work was supplemented by our approach that "the ship sank." The deterioration of the shutters reflected this, as did the ships wheel, the tattered sails, and ropes "floating" in the hanging "foliage," which takes on a decided seaweed look thanks to close collaboration with the lighting designer.
return to the TOP