directed by Bev Appleton
produced by Haymarket Dinner Theatre, Mechanicsville, Virginia.
---
The look of a small Harlem nightclub of the early 20th century was easy to reproduce on the small Haymarket stage. Lighting the scrim wall, lighting the band through the scrim wall, or opening the scrim curtain allowed careful control of the visual space in which the performers worked. Sidelights, an important part of most of my lighting design work, were used in plain view of the audience to reinforce the theatricality and intimacy of the production.


---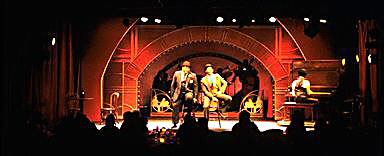 ---
As Ain't Misbehavin' progressed, so did the scenery, providing new visual excitement to each number, until the finale, when everything came into play.
---
Click here to see what Roy Proctor of the Richmond News Leader had to say...
or just the part about me...
return to TOP